Edward and George Genz
Birthplace: Chicago, Illinois
Family: William and Lydia Genz, Sister - Eleanor Sigourney


Edward and George Genz
Edward and George Genz
Edward and George Genz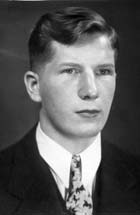 Edward Genz
Edward Genz
P.F.C. George Genz
There were hundreds of thousands of men and women that lost their lives in the second world war, but for every one of those brave souls, there were loved ones left behind who shared a special part of their life. This story is told through the loving heart of a sister whose loss was unimaginable to most people as she lost 2 brothers. This story is dedicated to the memory of her 2 brothers.
The loving sister is Eleanor Sigourney. Her two brothers are Edward Genz, born on August 3, 1918 and George Genz, born on August 12, 1920.
Edward entered the service in October of 1940. He left Necedah and went to Camp McCoy in Sparta, WI. From there he went to Ireland and on to Iceland. He stayed in Iceland for almost 4 years. While in Iceland, he got engaged to Kathleen McGee from Iceland but Edward didn't want to get married until after the war. "Dear Mother and Dad, Just came back from the Red Cross, had some coffee and cake before I go to bed but still have a little time to write to you tonight. Haven't got much to write about just to leave you know I'm OK and feeling well." Edward kept a steady line of communication with his family, which included the fact that the war was ending soon and he was very excited to come home. "It shouldn't be too long and this war should be over. I don't see why they (Germans) don't quit while they still have something left….I'd like to be back on the farm, just about time for duck hunting."
The war had a huge impact on the rest of the Genz family back in America. The family did what they could by sending "care packages" of food and letters. "We'd do anything for the boys, if we could." Edward's mother even sent a whole box of Yo-yos to her son and his outfit. On the day of Edward's death, Edward and his 200 men were taking German prisoners to a camp when an American aircraft dropped a bomb and killed Edward's whole outfit and the 200 German prisoners. Edward was a Tech Sergeant at the time he was killed, on September 20, 1944 in Metz, France. "The secretary of war desires me to express his deep regret that your son staff sergeant Edward G. Genz was killed in action on twenty September in France."
While having a party back home for George who was going over seas soon, the family received word that Edward was killed. This devastated the family. Because of Edward's death, they tried to have George stay home. If you had a relative killed in the service, you didn't have to release another to go overseas to fight. By the time the Red Cross notified the family that George did not have to serve, he had already left. At the time, George felt so bad for his brother Edward that nothing was going to hold him back anyway. Six months after he entered in October of 1944, he was killed in action.
Mrs. Genz received a letter from Gordon C. Curty who was the Chaplain of the 253rd Infantry concerning George's death, "It happened while we were engaged in offensive action in a wooded section north of Bubingen, Germany, along the Saar River and south of Saarbrucken. The company had paused for a meal; `Chow' as we say in the army. Chow call is usually a happy moment for the army men, especially when the going is tough. It was while George was resting and eating that an enemy mortar shell unexpectedly dropped in (they come down almost without a sound) and as it exploded into hundreds of pieces one of the fragments entered his body through the back. The wound was of such character that George died instantly. It is positively known that he immediately lost consciousness and could not have suffered any pain." Date of death was March 14, 1945 in Saarbrehen, Germany. He was a Private First Class.
Now at the age of 85, Eleanor reflects back on that difficult time. "After the boys were killed we got a package (that we sent) back, which was so sad, I couldn't understand why they didn't give it to the other soldiers." There was one time, however, that some soldier must have received one of our care packages because he sent a thank you note back.
This material is based upon work supported by the Corporation for National Service
under Learn and Serve American Grant #00LSFWI104