Rexall Meier
Birthday: November 15, 1922
Birthplace: Prescott, Wisconsin
Family: Ruth and Ralph Meier
Occupation: GI Training as an electrician
Branch: 9th Air Force
Unit: Aviation Engineers
Post: Radio Operators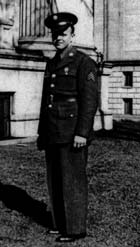 Rexall Meier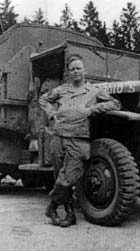 Rexall Meier
Rexall Meier
Rexall Meier

Rexall Meier
Rexall Meier was drafted into the military when he was twenty years old. After taking the aptitude tests, Meier went to radio school for twenty weeks where he learned Morse code and how to type. After radio school Meier was assigned to the 922nd aviation engineers, in Regimental Headquarters, Geiger Field, Washington.
"Handling radio messages between the regiment and battalions was done in code. All the messages were secret and required information. The messages came over radio by air done on a telegraphic key. If you received a message wrong or didn't understand it you could send a "Q" signal saying go back to message so and so, group so and so and clarify it and then have them resend it."
Meier generally worked eight hours a day on either the 3-11PM or 11-7AM shift. He worked in an ordinary building with all the radio equipment such as the receiver and transmitter, which could transmit 150-200 miles. They also had temporary radio buildings set up in the back of trucks, but regiments usually had a more permanent setting.
"Every morning we had roll call, where we stood in groups as the sergeant called off names. I especially remember roll call on June 6. We heard a rumble in the distance and all of a sudden thousands of planes flew right over us. We knew right away that it was D-day. The sky was just like a dark cloud or a storm coming over us. There were so many different planes like fighters, bombers, troop carriers, and C-47 planes, and some pulled gliders."
When not working, Meier would often go to post exchanges where you could drink beer and eat. Meier went to Brussels on a 3-day pass.
During the Battle of Bulge, about 20 miles from Meier's outfit were some German troopers. Since they were not a combat outfit they had to move their whole regiment to a convent, where sisters treated them unbelievably well. In eleven months in France the aviation engineers built or rebuilt 250 air bases.
"One time, up the road about a half a mile from us was a quartermaster outfit and they were generally all Black soldiers and my head cook didn't like Blacks. On New Years Eve he had a little too much to drink and he and another guy went by the quarter master depot to clean house. There happened to be a guard on duty at this quartermaster depot where all the supplies were. He walked up to this Black soldier and the Black soldier hollered halt. By protocol, you holler halt once, twice, and a third time and if they haven't stopped by the third time you shoot, which he did. Walking up to the Black soldier the cook knocked the gun out of his hand. Then the Black soldier picked up the gun and shot the cook sixteen times."
On V-E day Meier was in Frankfurt, Germany. Two days after the war had ended Meier got a message while he was working saying, "request corporal Meier be given leave to see his brother". They were together three days.
On his trip home, it took Meier eleven days on a boat from LeHavre, France to New York; eight of those days were in a storm. He arrived in New York on his birthday, November 5, 1945. Meier went from the east coast to Fort Sheridan, Illinois, where he received his discharge on November 12, 1945. Then he traveled to Milwaukee to catch a train home toward St. Paul, getting off in RedWing, Minnesota. It cost him $5.20 to travel by train from Milwaukee to near his home. From RedWing he took a cab twenty miles for $20 to his hometown of Prescott. While in the service Meier's folks had moved from the farm into Prescott so he didn't know where they were living. He told the cab driver to leave him off at the drug store, because he knew the owner, Oscar, would be able to help him out. Oscar took Meier in his Model A Ford to his parent's new home.
This material is based upon work supported by the Corporation for National Service
under Learn and Serve American Grant #00LSFWI104